Image
Give Your Lawn a Boost with Aeration & Seeding!
Comprehensive Lawn Care and Pest Control Programs
Aeration & Seeding in the NC Piedmont
Has the blistering summer heat taken a toll on your lawn? It's very normal for lawns to look drab after a long summer of warm weather, drought, disease, and increased foot traffic. If you find your once-beautiful, green lawn looking bare with brown spots, the experts at Tailor Made Lawns can help revitalize your lawn! With our professional aeration and seeding services we'll repair your grass and fill in empty patches—leaving you with a more vibrant, green lawn you can enjoy this upcoming fall!
About this Service
The summer season is hard on your lawn—with the hot temperatures combined with the lack of moisture, your lawn takes a hit. Throughout the year, your soil becomes compacted, making it hard for nutrients like sun and water to get to the roots. This results in less healthy turf, often accompanied by bare spots. If you're looking to give your lawn a boost this fall, our aeration and seeding services are the answer! Here's how it works: 
Core aeration: First, our highly-trained technicians will aerate your lawn--removing thousands of soil plugs. As a result, air, water, and nutrients will have a direct path to the root zone, resulting in new, stronger growth and increased root development. 
Overseeding: After we aerate your lawn, we will lay new grass seed on top of your existing grass to promote new growth and replace existing grass with a new strain for a season. Your grass will grow thick and strong, and bald spots will be a thing of the past!
Liquid aeration: Liquid aeration is a game-changer for lawn care in North Carolina! This revolutionary treatment is designed to break up and loosen topsoil and encourage deeper rooting to drive more oxygen into the topsoil. 
Contact us today to get started!
Reap the Benefits of Core Aeration & Seeding
Do you know the secret to beautiful lawns in North Carolina is an annual aeration and seeding service? We recommend this combination of services in the fall season because they help:
Alleviate soil compaction
Increase proper air, water, and nutrient circulation 
Reduce the build-up of thatch in your lawn
Fill in bare, bald spots
Improve the overall health & look of your lawn
What Makes Liquid Aeration Better for You?
The goal of lawn aeration is to get more oxygen, water, and nutrients into the root zone of your yard, so your grass plants can look healthier and greener. When you use liquid aeration on your lawn, fractures are created within the soil, allowing for deeper penetration of water, more nutrients to reach deeper roots, and better growth during key stages. The best part about liquid aeration? You don't have to wait until the fall! You can have healthier-looking grass all year round! 
You'll Love Your Lawn—Guaranteed! 
If you want your grass to thrive again, put it in the hands of our lawn care experts. Aeration and seeding will bring your lawn back to life, allowing it to absorb the water and nutrients it needs to grow thick and strong, giving you healthy grass year-round. We're so confident in all of our lawn care services that we guarantee them! What does that mean for you? If your grass doesn't grow properly afterward or you're not happy with the results, give us a call and we'll come back to reseed your lawn. Don't you think you deserve a beautiful lawn too? We certainly do!
Our Lawn Aeration Blogs
Check out our blogs on aeration and seeding: 
Partner With Our Local Company
With dozens of lawn care companies in the area, you are probably wondering why you should choose Tailor Made Lawns. We'll tell you:
We are a locally owned & operated company here in the Piedmont — and are huge supporters of the local community.
We are a family-friendly company — and we stand behind all of our lawn treatments and their safety for your family.
We have a great reputation — with over 300 reviews, we have an average rating of 4.9 on Google+!
We don't believe in binding contracts — unlike most lawn companies, we don't make you sign a contract, so it's all on your terms!
We offer an array of different coupons to help you save big — check out our special offers!
What's included in this service
Image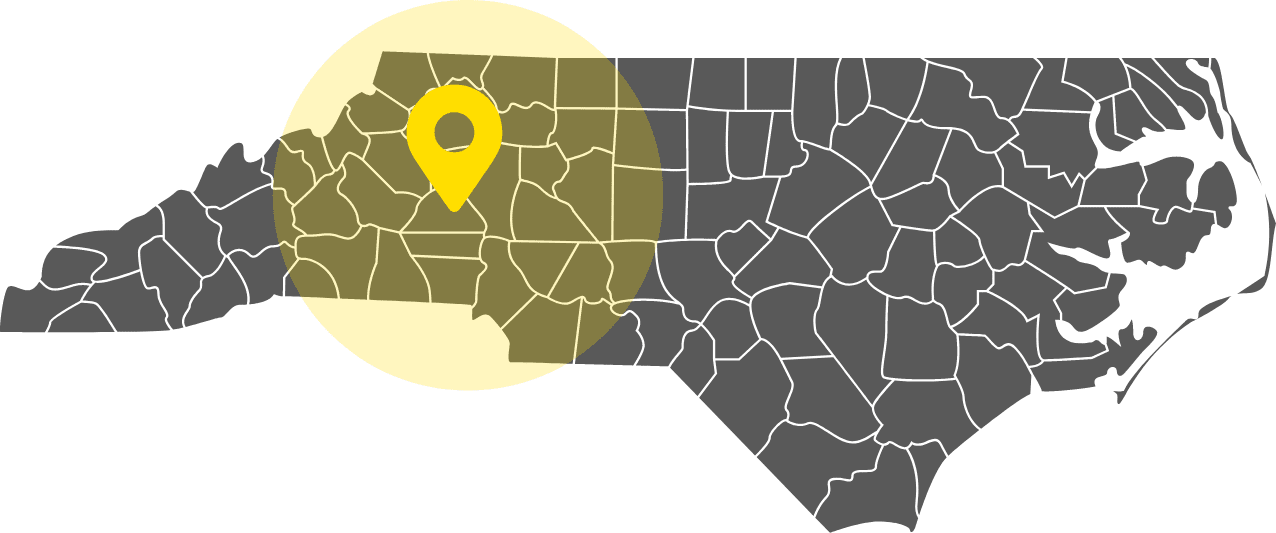 SERVICE AREAS
Areas We Service
As a locally owned company, Tailor Made takes great pride in making our neighbor's dream lawns come to life. We've been serving the Piedmont area since 1995, meaning we have over 25 years of extensive knowledge of our local grasses and plants, and how to properly care for them. We currently serve the following areas: