Image

Give Your Lawn a Boost with Aeration & Seeding!
Comprehensive Lawn Care and Pest Control Programs
Aeration & Seeding in NC
Your lawn may appear dull and lifeless after a hot summer. This is a common occurrence due to high temperatures, lack of water, diseases, and foot traffic. If you notice brown spots and bare areas on your once-beautiful green lawn, Tailor Made Lawns can assist you in bringing it back to life. Our expert team in North Carolina offers professional aeration and seeding services to repair your grass and fill in any empty patches. This will result in a more vibrant and green lawn that you can appreciate during the upcoming fall season.
Get Your Free Lawn Care Estimate
About this Service
Is your lawn suffering from the harsh effects of the summer season? The scorching temperatures and limited moisture can take a toll on your grass. Throughout the year, your soil becomes compacted, hindering the vital flow of nutrients like sunlight and water to reach the roots. As a result, your turf loses its health, often leading to unsightly bare spots. But fret not! If you're seeking to rejuvenate your lawn this fall, our top-notch aeration and seeding services hold the key to success. Here's a breakdown of how it works:
Our Core Aeration Service
Our team of highly-trained technicians will skillfully aerate your lawn, extracting thousands of soil plugs. This process creates a direct pathway for air, water, and nutrients to penetrate the root zone, facilitating fresh, robust growth and enhancing root development.
Our Overseeding Service
Following the aeration process, we will expertly distribute new grass seed onto your existing lawn, encouraging new growth and replacing any worn-out areas with a resilient strain for the upcoming season. Witness your grass flourish into a lush lawn while the dreaded bald spots become a thing of the past!
Our Liquid Aeration Service 
Experience a game-changing innovation in lawn care specifically designed for North Carolina. Our revolutionary liquid aeration treatment effectively breaks up and loosens the topsoil, stimulating deeper root penetration and increasing oxygen levels in the upper layers of soil. The best part about liquid aeration? You don't have to wait until the fall! You can have healthier-looking grass all year round!
Contact us today to get started!
Reap the Benefits of Core Aeration & Seeding
Do you know the secret to beautiful lawns in North Carolina is an annual aeration and seeding service? We recommend this combination of services in the fall season because they help:
Alleviate soil compaction
Increase proper air, water, and nutrient circulation 
Reduce the build-up of thatch in your lawn
Fill in bare, bald spots
Improve the overall health & look of your lawn
You'll Love Your Lawn—Guaranteed! 
If you want your grass to thrive again, put it in the hands of our lawn care experts. Aeration and seeding will bring your lawn back to life, allowing it to absorb the water and nutrients it needs to grow thick and strong, giving you healthy grass year-round. We're so confident in all of our lawn care services that we guarantee them! What does that mean for you? If your grass doesn't grow properly afterward or you're not happy with the results, give us a call and we'll come back to reseed your lawn. Don't you think you deserve a beautiful lawn too? We certainly do!
Our Lawn Aeration Blogs
Check out our blogs on aeration and seeding: 
Partner With Our Local Company
With dozens of lawn care companies in the area, you are probably wondering why you should choose Tailor Made Lawns. We'll tell you:
We are a locally owned & operated company here in the Piedmont — and are huge supporters of the local community.
We are a family-friendly company — and we stand behind all of our lawn treatments and their safety for your family.
We have a great reputation — with over 300 reviews, we have an average rating of 4.9 on Google+!
We don't believe in binding contracts — unlike most lawn companies, we don't make you sign a contract, so it's all on your terms!
We offer an array of different coupons to help you save big — check out our special offers!
What's included in this service
Image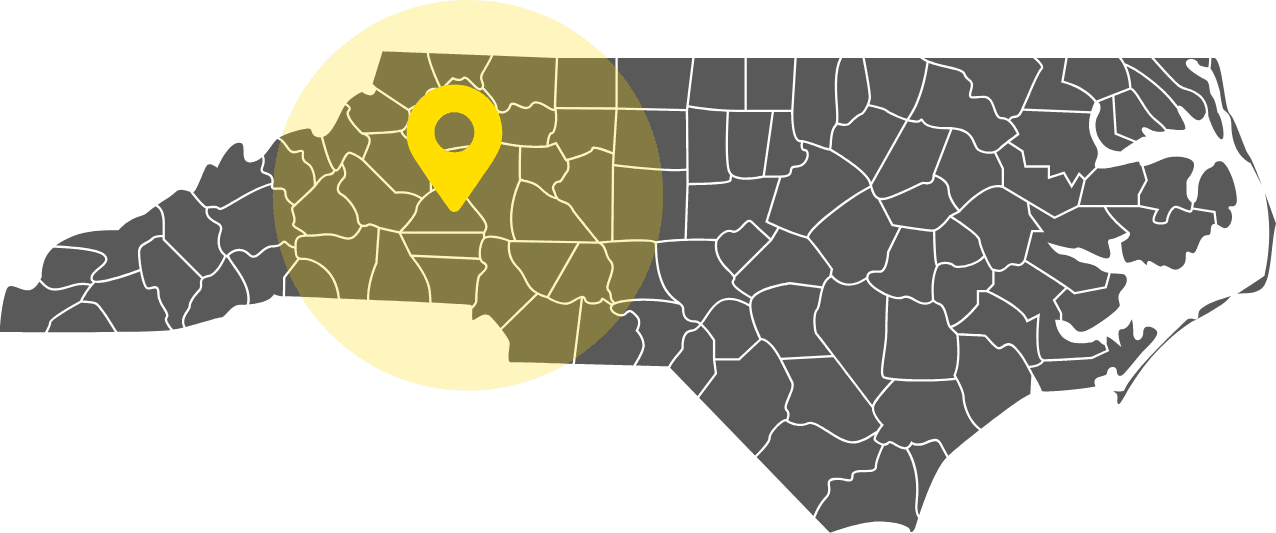 SERVICE AREAS
Areas We Service
As a locally owned company, Tailor Made takes great pride in making our neighbor's dream lawns come to life. We've been serving the Piedmont area since 1995, meaning we have over 25 years of extensive knowledge of our local grasses and plants, and how to properly care for them. We currently serve the following areas: