Image
Over 25 Years of Creating Gorgeous Lawns
Lawn Care in the NC Piedmont Area
A lush, green lawn makes a great first impression. Unfortunately though, it does take a great deal of time and effort to maintain such a beautiful lawn. Here at Tailor Made, a locally owned company since 1995, we'll give you a yard you can be proud of all year—with little to no work on your part. Our trained technicians employ the most advanced techniques, using quality products for excellent results. We use fertilizer designed to feed your turf naturally, through its roots, to create strong new growth. We'll create gorgeous grass without all of the hassle. Are you ready to sit back, relax, and enjoy your yard?
About this Service
Here at Tailor Made Lawns, we believe lawn care should be on your terms; this means there are no binding contracts when you partner with us. We're proud to offer better services at reasonable prices—with no hidden fees. You can pick and choose from the treatments that best address your lawn's needs. Our 9-step yearly package includes the following services: 
Initial lawn analysis 
Seasonal fertilization 
Fungicide treatments
Not sure which services you need? No problem! Our technicians will recommend a customized plan tailored to the needs of your lawn and its health. Plus, you'll receive a detailed notecard after each treatment that lists the services provided and updated recommendations. 
Get a free lawn analysis today!
Take Lawn Care Off Your To-Do List
Having a beautiful, healthy lawn is no easy feat. Many homeowners try to handle lawn care on their own, but end up with yards that don't live up to their expectations. With over 25 years of experience in the lawn care industry, we know grass better than anyone. We know exactly what treatments your grass needs and when. Take lawn care off your to-do list and let the experts at Tailor Made do all of the heavy lifting! All you'll have to do is sit back, relax, and enjoy your yard!
Family & Pet-Friendly Treatments
Each of our treatments includes weed control except for our early fertilizer, which is a granular product and spot spray treatment. The liquid treatments are applied directly to the ground to limit over-spray and chemical drip exposure. After all, our technicians have families and pets just like you and we stand behind all of our treatments. We even apply them in our own yards!
Contact us today to get started!
If Weeds Come Back, So Do We!
Here at Tailor Made Lawns, we believe communication is the foundation of great customer service. If you have questions at any time, we want you to ask. In addition, we guarantee our services—so, if you notice weeds in your yard in between treatments, we'll come back and re-treat your lawn at no cost to you!
Get Your First Weed Control Treatment for Free
This year, Tailor Made has officially been in business for 25 years! To celebrate, we are offering new customers their first weed control treatment for free when they enroll and pre-pay in our annual lawn care program. This deal is for lawns up to 5,000 square feet -- it will be $2 per additional 1,000 square feet for lawns larger than that. If you're looking to create a healthy, vibrant lawn to enjoy all year round, this deal is for you!
What's included in this service
Image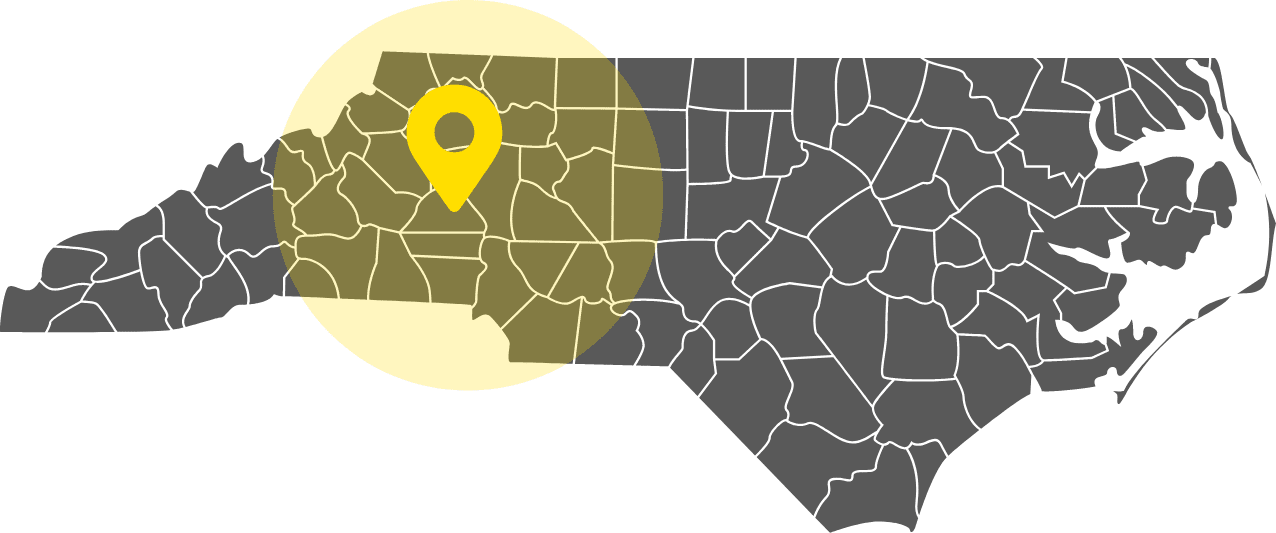 SERVICE AREAS
Areas We Service
As a locally owned company, Tailor Made takes great pride in making our neighbor's dream lawns come to life. We've been serving the Piedmont area since 1995, meaning we have over 25 years of extensive knowledge of our local grasses and plants, and how to properly care for them. We currently serve the following areas: