Who is Tailor Made Lawns?
In 1995, Tailor Made Lawns was incorporated and began doing business as Barefoot Grass Lawn Service.  Through the hard work and dedication of their employees, Tailor Made Lawns now services over 3,000 programs in the Charlotte, Hickory, Lake Norman, Winston-Salem, and other North Carolina areas.  With the most comprehensive turf management and pest control programs, we are proud of the lawns and homes we service.  As a locally-owned and operated lawn care and pest control business, we take the work that we do very seriously.
Image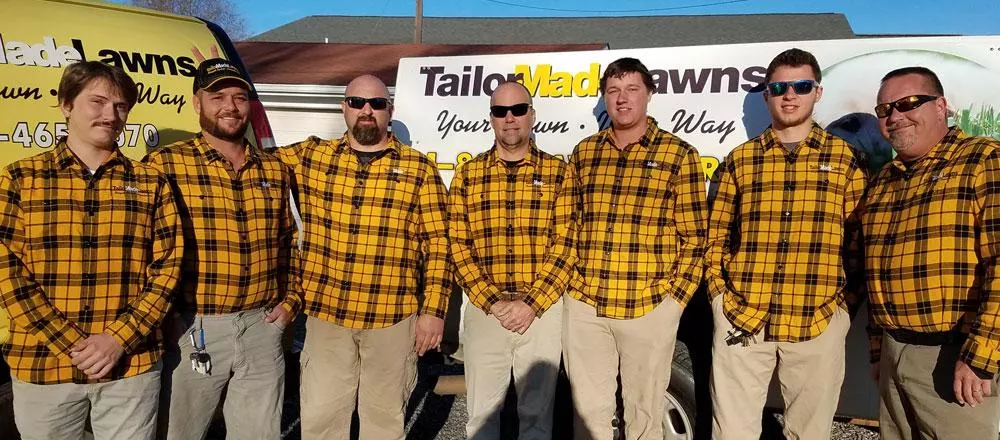 Our Family Heritage and Values
With more than 25 years of the most comprehensive turf management and pest control programs, Tailor Made Lawns strives to be a leader in the industry.  We believe in building long term, trusting relationships with our clients and team members.  We value our customers and will always work hard to serve our patrons' individual lawn care/pest control needs. 
What Makes Tailor Made Lawns Different?
Our tailored programs: All of our vehicles carry a wide variety of products to correct seasonable problems in your lawn. This means that the extra products we carry allows us to provide immediate attention to your problems before damage can occur!
Our granular fertilizers: The fertilizers that we use on your lawn are designed to feed the turf naturally through the roots. That means your lawn gets a controlled feeding to encourage new growth and root development, without the excessive top growth caused by typical liquid fertilizers. 
Our responsible lawn care: We share the public's concerns over the issues of pesticide and chemical abuse. Here at Tailor Made, we use only state and federally registered products as part of an integrated pest management program to be environmentally-responsible. 
Last but not least, our satisfaction guarantee: If, for any reason, you are not pleased with the results of any treatment, simply call us, and we'll retreat your lawn free of charge. 
How Tailor Made Gives Back to the Community
As residents and natives of the NC Piedmont area, we pride ourselves on giving back to our awesome community! We do this throughout the year in several ways and are always looking for additional ways to get involved.
Donations: Each academic year, we are proud to donate to the Northview Middle School and Hickory High School booster clubs, as well as CVYSA, a local youth soccer club. As proud supporters of education in our community, local schools are the recipients of our largest donations. This year, we have also donated to fundraisers as "Hole Sponsors" for 3 golf tournaments held by Claremont Elementary, Challenger Early College, and St. Aloysius Catholic Church. 
Military Family Adoption: Every year, the team at Tailor Made Lawns adopts a military family in the area and collects & contributes donations for Christmas. It's our pleasure to make the holiday season just a little easier for those who give up so much for our country! We were awarded a plaque from the NC National Guard as a thank you.
Volunteering and Sponsorships: Every fall, we are active with the Mountain View Elementary School Fall Festival, where we volunteer and sponsor games and activities for the children and their families.
College Scholarship: We're proud to provide an annual scholarship opportunity to a rising college student pursuing environmental sciences or a closely related field. Our hope is that this $1,000 scholarship will aid in local students achieving their goals and giving back to the environment in their work! Our 2019 recipient is Cedric Clyburn, a graduate of Challenger 
Sowing Seeds for Success: This scholarship we award annually to one graduating 6th grader at Mountain View Elementary School. This scholarship consists of a new Chromebook for the student to use for their future academic endeavors!
When you partner with Tailor Made Lawns for all of your lawn care needs, you can take pride in knowing you are working with a family-owned and operated company that is one of the biggest supporters of our local community!