Image

Could Your Lawn Use a Little Extra Help to Look Spectacular?
Comprehensive Lawn Care and Pest Control Programs
Additional Services in the NC Piedmont Area
Here at Tailor Made Lawns, we want to cover every angle to ensure your lawn looks its best year-round. For that reason, we offer additional services on top of lawn care, tree & shrub care, aeration & seeding, pest control, and mosquito control. Our team of professional technicians handle these additional services with the same commitment to excellence that's built our stellar reputation in the industry!
Get Your Free Lawn Care Estimate
About this Service
As your company for all things lawn care in North Carolina, we also offer other additional services that include grub control, sedge control, bermuda control, and more! Whatever you need, the experts at Tailor Made Lawns can help!
Have Grubs Taken Over Your Lawn?
Grubs are the larvae of beetles that feed on your lawn's roots and organic matter. Not only do they create ugly brown spots and other damage to your lawn—they also attract moles. At Tailor Made, we offer grub control to ensure your lawn stays beautiful. We offer two types of grub treatment:
Preventative grub treatment: When we apply a preventative treatment to your lawn in June or July, your lawn is protected from grubs all year long. Preventative grub control is offered as part of our yearly lawn care program!
Curative grub treatment: If you miss the preventative grub application in June/July, curative applications are available as an added service when grubs are most active in September/October.
Weed Control for Sedge Weeds
Sedge is a grassy weed attracted to moist areas in your yard. It grows quickly in months with hot temperatures—faster than your grass. What makes it tough to control is that it grows from tiny tubers that form on roots, growing as much as 14 inches into the soil. Even if you pull out the roots, some tubers will remain...and keep growing. Although mowing your lawn high can crowd out sedge, the best way to get rid of it is with professional sedge control.
Bermudagrass Control
Killing bermudagrass on your own can be difficult, particularly when you want to maintain your healthy tall fescue lawn. Our bermudagrass control service suppresses undesirable bermudagrass without damaging your lawn. The ideal time for bermudagrass control is during the summer months when it is actively growing. Our Bermuda Suppression Program includes 3-5 applications throughout the summer. It's important to suppress bermudagrass before overseeding in the fall!
Have Other Weeds in Your Lawn? 
We use pre and post-emergent applications to control most weeds, however, there are some weeds which require additional attention for satisfactory control. Wild Violets, Virginia Buttonweed and Oxalis are examples of weeds not fully controlled by normal weed control products and which may require additional attention.
In the spring, we use pre-emergents to control crabgrass and other weeds, eradicating the seedlings before they become established.
In the fall, when plants are storing nutrients for the coming winter, we eliminate weeds down to the root with post-emergents.
Year-round, when you purchase Specialty Weed Control, we evaluate and apply the proper product(s) to maximize control of these difficult weeds.
Enjoy Your Lawn Year-Round
Here at Tailor Made Lawns, we want your lawn to thrive. But, we want it to happen in the most relaxing, stress-free way as possible. We combine our superior services with excellent customer service so that your experience is as hassle-free and enjoyable as possible. You can count on us to give you the lawn of your dreams while you sit back and enjoy the results!
Image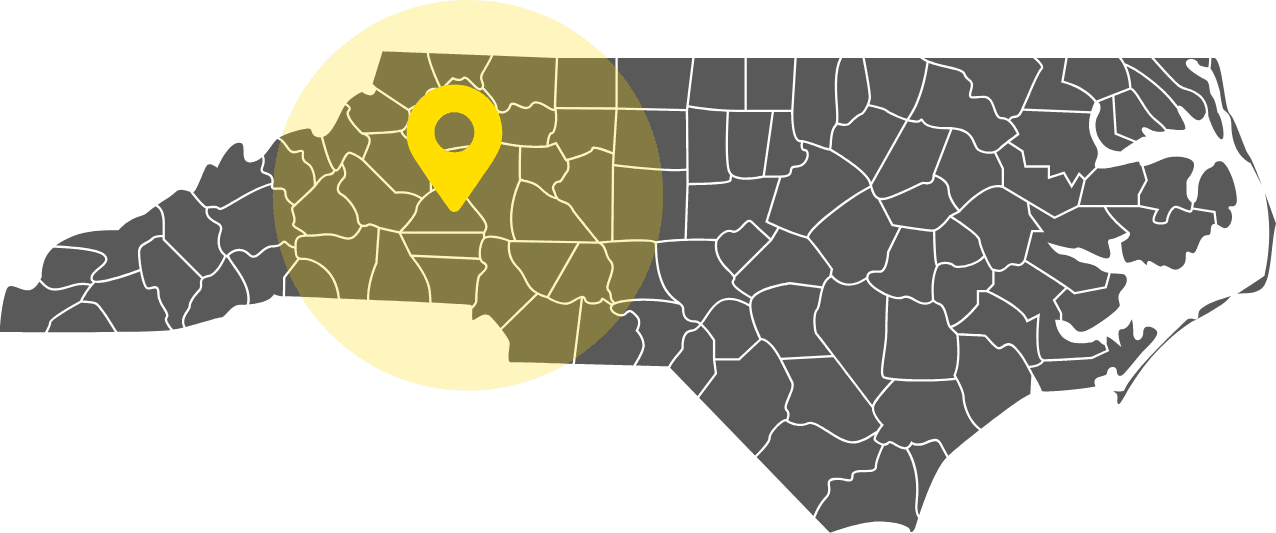 SERVICE AREAS
Areas We Service
As a locally owned company, Tailor Made takes great pride in making our neighbor's dream lawns come to life. We've been serving the Piedmont area since 1995, meaning we have over 25 years of extensive knowledge of our local grasses and plants, and how to properly care for them. We currently serve the following areas: