Image

Over 25 Years of Experience Managing North Carolina Weeds
Comprehensive Lawn Care and Pest Control Programs
Weed Control
With over 25 years of experience in the weed control business, our experts know exactly what it takes to eliminate and manage all of the weeds that like to call North Carolina home, from standard dandelions to rare and resilient wild violets. Luckily, no matter what species of weeds are plaguing your yard, Tailor Made is here to help! We offer weed control in the NC Piedmont are, such as Charlotte, Hickory, and Winston-Salem, to tackle even the trickiest of weeds and make your yard into the beautiful weed-free paradise you've been dreaming of!
Get Your Free Lawn Care Estimate
About this Service
Broadleaf weeds are the most common varieties that we find in the NC Piedmont. Luckily, they are also fairly easy to manage! If your yard has become plagued with unsightly weeds, Tailor Made is here to help. Our lawn care professionals are seasoned experts when it comes to managing a variety of common broadleaf weeds, like:
Chickweed

Clover

Dandelions

Henbit

Wild Onion
Specialized Treatments for Stubborn Weeds
While our standard weed control successfully controls against most broadleaf weeds, some yards require a little extra tough love to remove our area's most stubborn species. For an additional cost, we offer specialty weed control to manage a variety of tough-to-treat weeds like:
Wild Violets – With their tuber-like root system, wild violets are among the most common of the difficult-to-control weeds. This species requires continued applications to maximize control.

Oxalis – This clover look-a-like is a "prolific seeder," meaning it requires seasonal treatments to keep it under control.

Virginia Buttonweed – Buttonweed is a summer weed that loves moisture. Once it matures, it's near impossible to kill, so catching it early is critical!

Poa Annua – Annual bluegrass is a cool-season grassy weed that's especially tricky to tackle. The best defense against it is to skip a year of fall aeration and seeding, and treat your yard with an additional round of pre-emergence to prevent seed from re-emerging. 

Bermuda grass – Bermuda grass is especially prolific in our area, so we have a program specifically designed to manage it! This includes 3-7 yearly visits where our skilled technicians apply powerful Pylex to keep Bermuda patches at bay. 

And more!
Contact us today for fast relief!
A Family-Owned Business That Puts You First
As a family-owned and operated company, we know how important it is to treat all of our customers like family. For us, that means offering you the best service and the best results at a great value. That's why we work hard to make our services as stress-free as possible. When you partner with us for your weed control needs, you can expect:
A specialized treatment plan – No two yards are the same, so we don't treat them that way. Our experts are trained to view your yard as a unique puzzle, planning and crafting an individualized plan that will help manage your exact weeds without compromising the health of your lawn.

Environmentally friendly treatments – We utilize an environmentally-friendly integrated pest management approach. That means limiting the use of harsh chemicals when possible, and using eco-friendly chemicals when necessary. 

A 100% satisfaction guarantee – All of our services are backed with a 100% satisfaction guarantee. That means that if you're not satisfied with the work we've done, well come back and re-treat for free!
What's included in this service
Image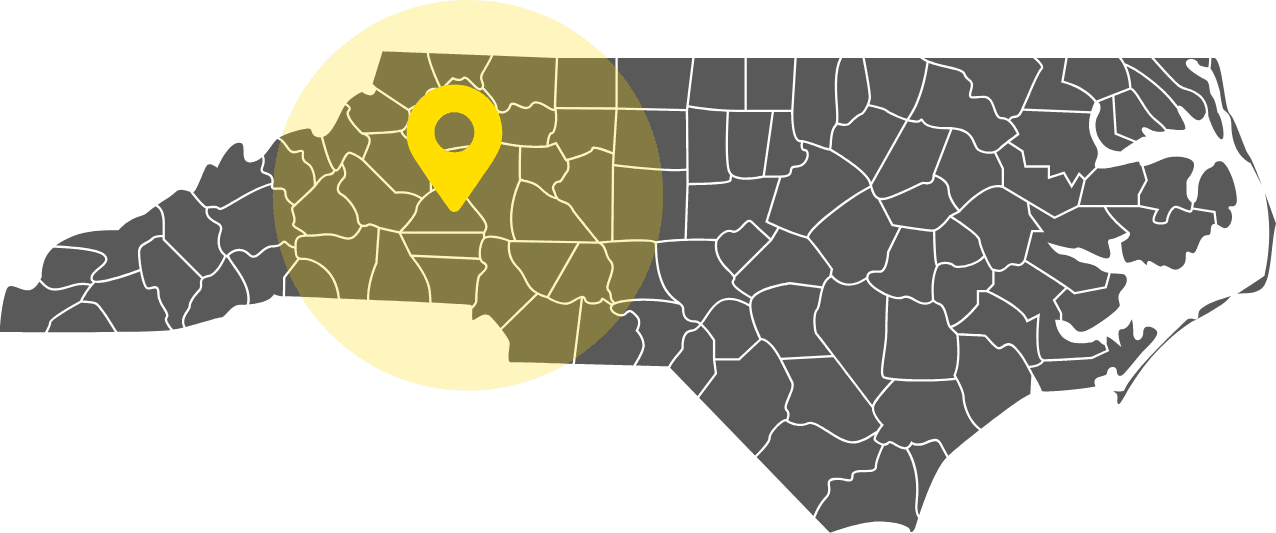 SERVICE AREAS
Areas We Service
As a locally owned company, Tailor Made takes great pride in making our neighbor's dream lawns come to life. We've been serving the Piedmont area since 1995, meaning we have over 25 years of extensive knowledge of our local grasses and plants, and how to properly care for them. We currently serve the following areas: