Image

25 Years of Expert Tree & Shrub Service
Comprehensive Lawn Care and Pest Control Programs
Tree & Shrub Care Services in NC
Enhance the appearance of your North Carolina home with expert tree and shrub care. Enjoy spending more time in your beautiful abode surrounded by well-maintained ornamentals. Tailor Made Lawn offers professional tree and shrub services to ensure your trees and shrubs thrive, eliminating the need for extensive knowledge and time commitment. Experience the pleasure of a pristine lawn without the hassle—no contracts necessary. Trust our Tailor Made Lawn experts for exceptional ornamental maintenance.
Get Your Free Lawn Care Estimate
About this Service
Did you know North Carolina is home to over 600 types of trees and shrubs? With such a wide variety, it's important to find tree and shrub care that addresses the needs of your specific plants. Here at Tailor Made Lawns, our tree care technicians are trained in the many nutritional needs, insect infestations, and fungal diseases associated with local ornamentals. We promise to provide specialized care to ensure your landscape flourishes year-round.
Expert Shrub Care in North Carolina
At Tailor Made Lawns, we specialize in providing comprehensive tree and shrub care services that save you time and effort. With our expertise, you can relax and appreciate the remarkable results. Our dedicated professionals initiate the process by conducting a thorough inspection and evaluating the overall health of your yard. Based on this assessment, we create a personalized treatment plan tailored to the specific requirements of your plants. Our technicians are extensively trained to identify early signs of plant diseases, insect infestations, and maintenance issues, and they possess the knowledge and skills to implement effective solutions. Trust us to handle all your tree and shrub care needs with precision and care.
From giving your plants preventative care to supplying them with the nutrients they need to thrive, our technicians will ensure the continued growth and development of your plants. We do this by providing tree and shrub care year-round for the best results. Our tree and shrub care program in North Carolina is a 7-visit program that includes:
Treatment 1: Dormant oil application
Treatment 2: MERIT application
Treatment 3: Spring fertilizer with MERIT
Treatment 4: Late spring insect and disease control
Treatment 5: Summer insect and disease control
Treatment 6: Late summer insect and disease control
Treatment 7: Fall fertilization
Get started on your dream lawn today!
Family & Pet-Friendly Tree & Shrub Treatments
There's no need to worry about harmful products being used on your lawn, or what may happen if your children or pets play in your yard near recently treated places. Every product we use is family- and pet-friendly, ensuring your family's safety at no expense to your trees and shrubs. We stand behind all of our treatments and only use products we use in our own yards.
Our North Carolina tree and shrub services include:
Custom blended applications based on the season
Both foliar and root drench liquid fertilization
Insect control to repair and avoid damages
Disease control to keep your property safe from fungi, rot, and other diseases
Locally Owned & Operated Lawn Care Company
As a locally owned and operated lawn care company since 1995, we believe in supporting our local community. We do this throughout the year in several ways, including: 
Donating to several schools and booster clubs, including Northview Middle School and Hickory High School
Sponsoring sports teams and events, including CVYSA and golf tournaments held by Claremont Elementary, Challenger Early College, and St. Aloysius Catholic Church
Adopting a local military family during the holidays and collecting donations for Christmas
Sponsoring games and volunteering at Mountain View Elementary's annual Fall Festival
Providing a $1,000 scholarship to a rising college student pursuing environmental science 
Providing a graduating 6th grader with a new Chromebook for future academic endeavors in an event called Sowin Seeds for Success
When you partner with Tailor Made for your tree and shrub care needs, you can take pride in knowing you are supporting a local business that supports our community right back. 
The Best Tree & Shrub Care In The Piedmont Area—Guaranteed!
With over 25 years of experience in the lawn care industry, no one knows tree and shrub care like we do. Our 4.9 Google rating with over 300 reviews prove it! When you partner with Tailor Made for tree and shrub care, you can rest assured that your ornamentals will be looking their best and be protected from bugs year-round, guaranteed! If you're unhappy with your service, we'll come back and re-treat for free!
What's included in this service
Image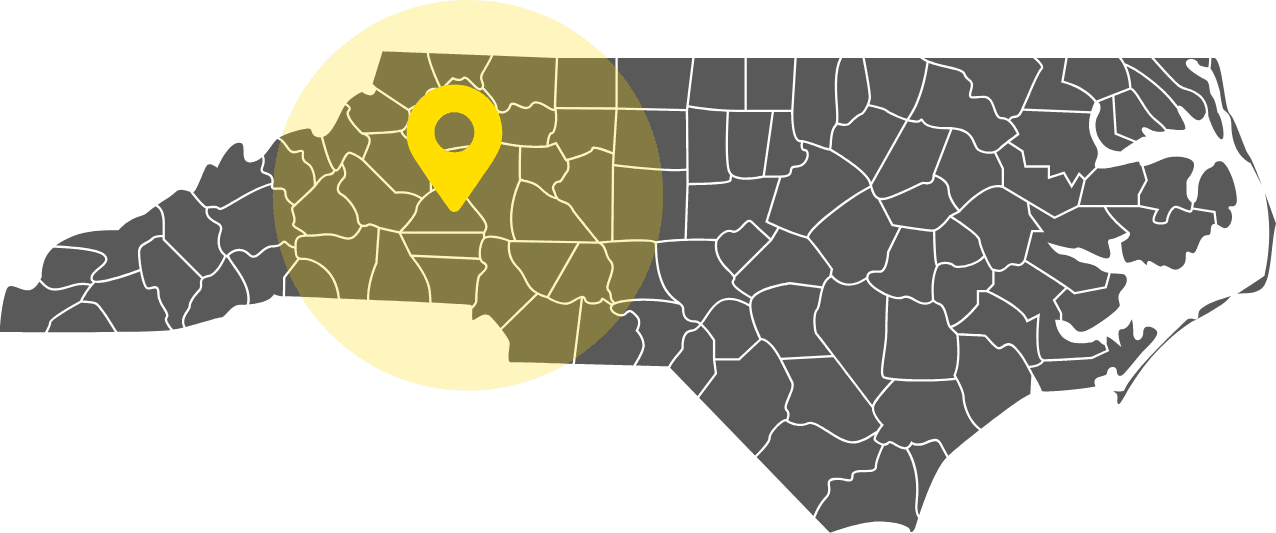 SERVICE AREAS
Areas We Service
As a locally owned company, Tailor Made takes great pride in making our neighbor's dream lawns come to life. We've been serving the Piedmont area since 1995, meaning we have over 25 years of extensive knowledge of our local grasses and plants, and how to properly care for them. We currently serve the following areas: