Image

Get Lasting Relief From Mosquitoes, Guaranteed.
Comprehensive Lawn Care and Pest Control Programs
Mosquito Control Services in the NC Piedmont
Are you tired of constantly battling mosquitoes in your own backyard? You're not alone. In North Carolina, these bothersome insects can quickly turn outdoor enjoyment into a frustrating experience. Fortunately, Tailor Made Lawns is here to provide a solution. Our team of experts specializes in significantly reducing the mosquito population in your yard, allowing you to reclaim your outdoor space. Take control of your yard today by signing up for our convenient seasonal program and pre-paying for guaranteed results.
Get Your Free Lawn Care Estimate
About this Service
Here at Tailor Made Lawn, we provide premier solutions for effective mosquito control services in North Carolina. We understand the significant threat that mosquitoes pose, carrying dangerous diseases such as Malaria, West Nile Virus, and Zika Virus. Safeguarding the well-being of your loved ones and pets is our top priority.
Professional Mosquito Treatment 
Our mosquito exterminators have developed highly efficient mosquito control treatments that go beyond merely eradicating these pests. We create a protective barrier around your yard, ensuring lasting results that span 3-5 weeks. With our comprehensive 7-treatment plan, you'll experience unparalleled peace of mind. Our monthly treatments, available from April through October, have proven to be exceptionally effective. Not only do we target mosquitoes, but we also tackle other flying insects like gnats and no-see-ums. Our approach is thorough, targeting breeding grounds in all-natural areas and turf.
Mosquito Barrier Treatment
In addition, we extend our efforts to landscape trees and wooded areas by applying targeted sprays 15-20 ft. This ensures that mosquitoes and other pests are eliminated from these potential hiding spots. By addressing every aspect of your property, we leave no room for mosquitoes to thrive. Choose Tailor Made Lawns for mosquito control services in North Carolina that prioritize your safety and well-being. Contact us today to take the first step toward a mosquito-free environment for your home and loved ones.
CONTACT US TODAY TO GET FAST MOSQUITO RELIEF!
If Mosquitoes Return, We Will Too!
Your family's health and comfort are our priority. Our monthly mosquito control treatments in North Carolina are the ideal way to keep mosquitoes out of your lawn—and your yard—permanently. If your treatment stops working due to rainfall or another issue before the next visit, don't worry: we'll come back and retreat free of charge. Stop mosquitoes and other flying insects from infiltrating your property so you can enjoy your yard comfortably again!
4.9 Google Rating With Over 300 Reviews
Here at Tailor Made Lawns, we understand that you can't trust your home and yard to just anyone. There's a reason our customers love us—we believe in delivering quality results with the highest level of service. After all, we're your neighbors and fellow supporters of the local community so we would not feel comfortable delivering anything less. We're proud to be one of the highest-rated companies in the area—we have a 4.9 rating on Google with over 300 online reviews.
Special Event Mosquito Treatments
Planning an outdoor celebration? Don't let mosquitoes spoil the fun. With our specialized event mosquito treatments created for North Carolina mosquitoes, you can keep those pesky bugs at bay and ensure an enjoyable experience for you and your guests. Our team will spray your yard prior to the event, providing a protective barrier that keeps uninvited guests away. Rest easy knowing that we've got you covered with just a single treatment to ensure your party goes off without a hitch!
Image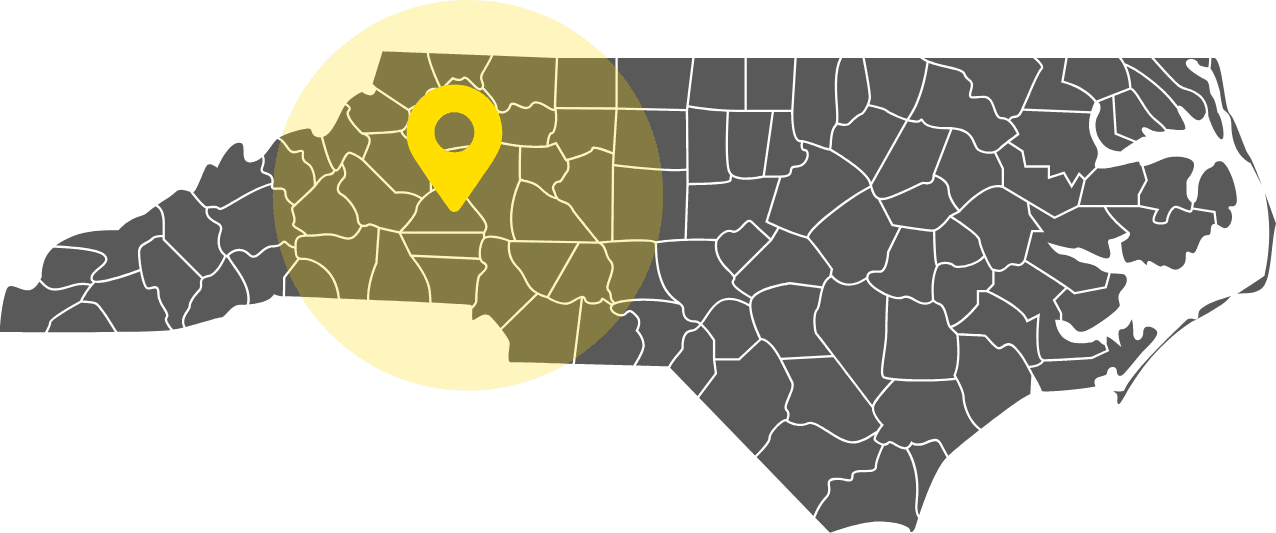 SERVICE AREAS
Areas We Service
As a locally owned company, Tailor Made takes great pride in making our neighbor's dream lawns come to life. We've been serving the Piedmont area since 1995, meaning we have over 25 years of extensive knowledge of our local grasses and plants, and how to properly care for them. We currently serve the following areas: